Cindy Foster – Trainer – USHJA Certified Trainer – USEF "r" Hunter, Hunt Seat Equitation and Jumper Licensed Judge
"For me, it's a thrill no matter what level I teach. Whether I'm working with a new student at a local show or an accomplished competitor at WEF in Wellington, Florida, horses, training, coaching and showing are my passion."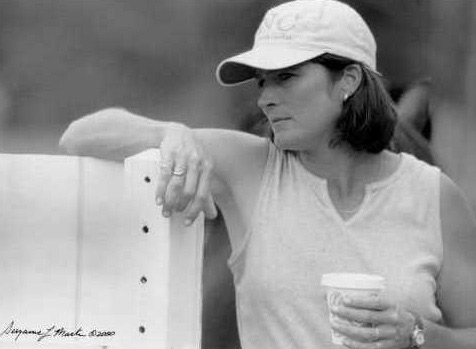 Growing up in Gates Mills, Ohio, where horses were a family tradition, Foster began her formal training at age 12 with industry icon, Howard Lewis. She was fortunate to not only train with Lewis, but also develop horsemanship skills and work experience under his guidance, competing up through the junior level hunter, jumper, and equitation divisions.
After graduating from college, Cindy began her professional career at Hurdle Hill Farm in Lockport, NY, as the horse show manager. There Foster travelled the indoor circuit and worked alongside top riders and trainers, eventually moving on to work with Jay Golding in Gordonville, Virginia, prepping young horses for sale.
Foster went on to work with Patty Heuckeroth in Southern Pines, North Carolina, as well as ride young horses at the farm for Gene Cunningham. Working with both Patty and Gene at the East coast shows provided invaluable management experience.
"Having the opportunity to work with legends in the sport, truly provided me with a wealth of experience in every facet of the business," she said. "It gave me the solid foundation I needed to launch my independent career."
Foster began her own business at Halali Farms in Hunting Valley, Ohio, where she trained riders and horses for 15 years.
In 1994, Foster teamed up with Sergio Jimenez, a successful rider and trainer. The move offered clients the combined advantages of Cindy's focus on training and coaching and Sergio's talents as a rider and trainer.
"In 2002, we made the commitment to purchase and operate our own facility in Newbury, Ohio. It's quite common for professional riders and trainers to move from barn to barn. This can be difficult for clients and their horses. We wanted the ability to really focus on what we do best, and having our own facility allowed us to provide a comfortable and professional environment for our clients and their horses. We've since invested in the building, equipment, and even the quality of the footing media for our rings. We use premium feed, hay from a reputable source, and provide expert care. All in all, it allows us to deliver a world-class experience to our clients," Foster noted.